Brisbane Conversation - Articulating Practice Through Provenance with Dr Geof Hill and Dr Catherine Lloyd
Where:
Residence Lounge, Yeronga Village, 15 Cansdale St, Yeronga Qld 4104
Image: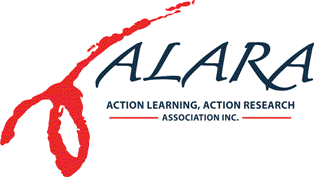 ALARA presents
 A Conversation with Dr Geof Hill and Dr Cathryn Lloyd
Articulating Practice Through Provenance 
Abstract:       Professional practice literature acknowledges the value for practitioners inquiring into and critically reflecting on their professional practice. This is often referred to as practitioner research, but in action inquiry circles is known as first-person action research.  Inquiry into and describing one's practice has its challenges. How can a professional creatively interrogate their practice to generate new knowledge and theory that creates value for the inquiring practitioner and for others?
This workshop/discussion explores practice-led inquiry and Provenance. Provenance, a term associated with fine arts, is a strategy/process within practice-led inquiry that enables practitioners to recognise knowledge about practice arising from their own experiences and the ability to utilise that in their theory building. 
Provenance helps the inquirer/researcher identify professional turning points and scaffolds the origins of their practice through nominating critical incidents and literature that have informed development of their practice and in turn builds meaning about how a given professional practice can be understood and undertaken. The narrative that evolves from consideration of critical events, and literature that have informed development of professional practice, can be revisited to generate new insights about the practice and affirm the practitioner/inquirer's understanding and knowledge of their practice.
Cathryn and Geof have been exploring the notion of Provenance in professional practice since Geof supervised Cathryn on her doctoral degree.  They continue to collaborate on papers and projects.  Their paper Articulating Practice Through Provenance has recently been accepted by the (International) Action Research Journal and is soon to be published. 
Dr Geof Hill is the Principal Director of the Investigative Practitioner and currently working as a Reader in Higher Education at Birmingham City University, U.K.  
Dr Cathryn Lloyd is Founder/Director of Maverick Minds Pty Ltd.  Maverick Minds designs, facilitates and coaches powerful and flexible learning experiences for leaders, managers, teams and professional individuals to help shift thinking, gain new perspectives and create positive long-term change. 
When:                        Thursday, 5 July, 5.30 – 8.00 pm
Parking:         Visitors' Car Park or street parking on Cansdale St or Vennor Rd
Cost:               Free, sponsored by the Village Management, including room and refreshments.                   BYOdrinks
R.S.V.P.          Please email or text Wilma Schouten on 0409 561 601 or wilmaschouten7@gmail.com
ALARAis a strategic network of people interested or involved in using action learning or action research to generate collaborative learning, research and action to transform workplaces, school, colleges, universities, communities, voluntary organizations, governments and business.
ALARA'svision is that action learning and action research will be widely used and publicly shared by individuals and groups creating local and global change for the achievement of a more equitable and, just and joyful, productive and sustainable society. 
You don't have to be an ALARA member to attend.  If you have questions about ALARA you can ask them at the Conversation.